Posted on 2019-03-28, by
fubber
.
---
Description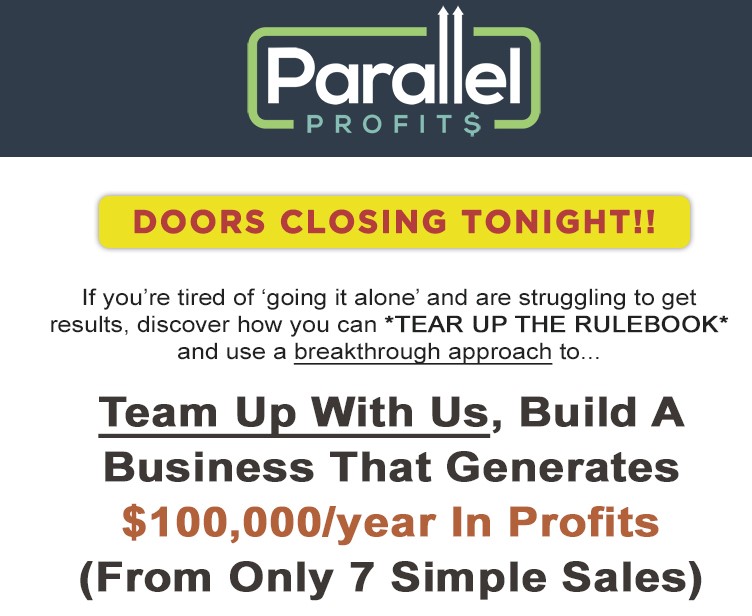 Aidan Booth And Steven Clayton - Parallel Profits
mp4 | AVC: 960x720 G_P| Audio:AAC LC 66 Kbps | Total files:118 | mp4, pptx, zip, txt, pdf, docx | 7.71 GB
Genre: eLearning | Language: English
General:


From Aidan Booth, on behalf of Steve Clayton...

What you'll discover in the next few minutes is unique, extremely unconventional and is entirely different to anything we, or anyone else, has ever done before.

We have taken a business model that has HUGE demand, LOW competition, (and something that we have had consistent success with for many years) and have added.

A Truly Unprecedented "Twist"

A twist that turns it into the EASIEST and FASTEST way to build a full time living that exists today.

I know, it's a sizable claim - but I make the claim for two simple reasons....

Firstly, we are the ones who are going to be doing the work for you (meaning you won't need any experience to get up and running).

And secondly, if you follow our instructions to the point, you'll only need...

7 SALES To Build a Business That Makes $100,000 in PROFIT Every Single Year.



That's right - not fifty sales...not a hundred - or even a thousand...

Just SEVEN.

Not only that, after you have made your first seven sales, it'll be really easy to scale up and make even more.

Why?

Because scaling up won't rely on you doing the work --- again, it relies on us and our team of experts.

You see, what we're not talking about here is selling $20 products and making 5 or 10 bucks net profit for each sale...

This Is About Making Individual Sales Of Thousands Of Dollars At Any One Time...

...lump sums that not only will help increase your personal bank balance. but will help boost your other businesses (if you have them).

Actually, "thousands" of dollars could be considered conservative. The types of sales we're talking about here can run into TENS of thousands of dollars - in fact, we have had $25,000+ days before.

Just imagine getting sales like that.

What Exactly Is The Business Model We Are Talking About Here?

It may seem quite simplistic at first. but as you'll discover, the opportunity is VAST - so make sure you read the following VERY carefully...

Essentially, what we're talking about here is providing really simple online services to small, local businesses...

Literally ANY small business - such as stores you'd find in your local mall or main street. or businesses that provide services such as dentists, doctors, car dealerships, plumbers and so on...

The services you provide are things that you may find elementary, but are CRITICAL (and therefore highly valuable) to these businesses for the following reason...

They will help them achieve more search engine visibility, more social media exposure along with a better looking and more reliable web presence - which will result in two things for them...

More customers and more revenue.

And because customers and revenue are clearly the "holy grails" to ANY small or local business, this means...

You Can Charge Them Hundreds, Even Thousands of Dollars On a MONTHLY Basis To Carry These Services Out.

I know, it sounds like a lot of money to charge. but they'll love you for it and be happy to pay as you're providing REAL value that gets them RESULTS.

Basically, it's a win-win situation.

Now, you may be thinking that this is something that you wouldn't be able to do as you don't have any experience in internet marketing or providing services in this way.

You may also be wondering how you could possibly help others if you've failed at online projects of your own.

Perhaps you're concerned about communicating with people and investing money to get started.

If you are thinking ANY of these things, let me make...


THREE Very Important Points Right Upfront...

You DON'T have to meet with anyone or call anyone up (unless you absolutely want to). We use automated hands-off campaigns to drive local businesses to us.

You DON'T need any internet marketing knowledge or previous experience at offering online services because other people (who already have the expertise) will be delivering these services on your behalf.

You DON'T need money to start. As long as you've got an internet connection and a computer, that's all you need. You never need to worry about cash-flow or being out of pocket either.


So I hope that clears a few things up.

Now, a question you may be asking yourself (and it's something that we've been asked a lot over the past week) is this...

Don't most small or local businesses already have websites, search engine visibility and social media accounts??

And if they are "local" do they really need to market themselves online?

In other words.

Is There REAL DEMAND For These Types of Services?

It's a good question.

Let's start from the top and address those businesses who already have a web presence...

Think about it for a moment. How many local businesses do you think could benefit from additional traffic coming to their website and social media pages?

The answer is ALL OF THEM.

Every business, no matter how large or small, needs more traffic - and 99% of them have NO IDEA how to get it.

Even when they do get traffic, they've got no idea how to convert it to revenue.

Not only that, the VAST majority of small businesses don't have the time or inclination to do online marketing - neither do they want to be bothered with trying to learn how.

All they want to focus on is cleaning teeth, or doing tax returns, or fixing plumbing or whatever it is that they do.

They would MUCH rather "pass the marketing buck" to someone else.

So.. in short-order summary, with businesses who already have an online presence, there is HUGE demand.

But what about businesses who DON'T have an online presence?

Most people think that ALL BUSINESSES have a website now - but actually, that couldn't be further from the truth.

In the United States, according to CNBC, an estimated 45% of small businesses don't have a website.

Forty five percent!!

I know - it's crazy.

It's not just the US...

In the UK, more than 2 million small businesses DON'T have a website either. or any online presence at all.

...and the numbers repeat themselves globally - it's the exact same scenario in Canada, Australia and many other countries too.

Essentially what this means is that MILLIONS of businesses KNOW they need to have an online presence, but have no idea how to go about it and don't know who to turn to...

...and when you consider that research suggests 62% of potential customers will stop considering a small business if they can't find information about it online, you can see why the demand is colossal and why the potential of this business model is so vast.
Not just vast either - MASSIVELY lucrative too.

How Lucrative? Let Me Paint You a Picture Of Profit...

From our own business we KNOW that on average these 7 customers will collectively pay you approximately $12,000 per month in total - equating to $144,000 each year.

From that you will take home about $100,000 in net profit.

(A 70% profit margin).

Then you once you have your first 7, it will be relatively easy to scale up and increase the amount of customers you have.

It would work out something like this...

15 customers = Potentially $308,000/year (You take home: $215,000)
25 customers = Potentially $515,000/year (You take home: $360,000)
50 customers = Potentially $1,030,000 /year (You take home: $720,000)

In other words, the numbers can stack up really fast.

I know it seems a little too easy to be true -- but the above scenario is actually very realistic...

We've seen it over and over again for about a decade now and what I can tell you is this...

The Sheer Speed At Which You Can Make Serious Money Is UNRIVALLED By Any Other Business Model That We Know Of.

Video:

Width: 960 pixels
Height: 720 pixels
Format: AVC
Codec: AVC
Duration: 1h 44min 22s
Bit rate: 519 Kbps
Frame rate: 10.000 fps
Aspect ratio: 4:3
Bit depth: 8 bits
Color space: YUV
~Golden_Plaza~
Subtitles: N/A

Audio:



Audio track: 1


Language: N/A
Codec: AAC LC
Channels: 2
Bit rate: 66 Kbps N/A
Compression: Lossy
Sampling rate: 44 Khz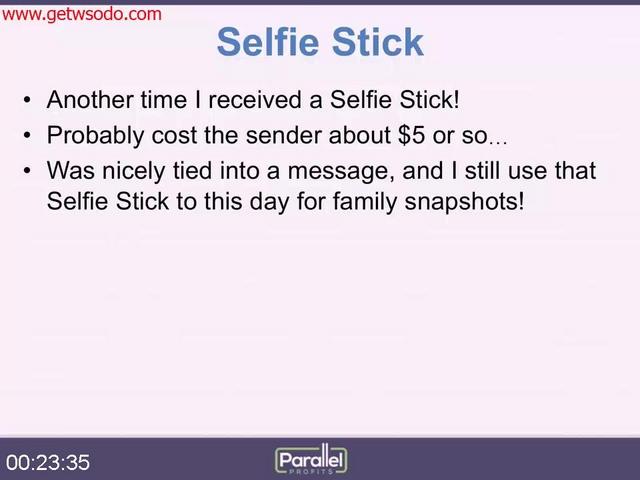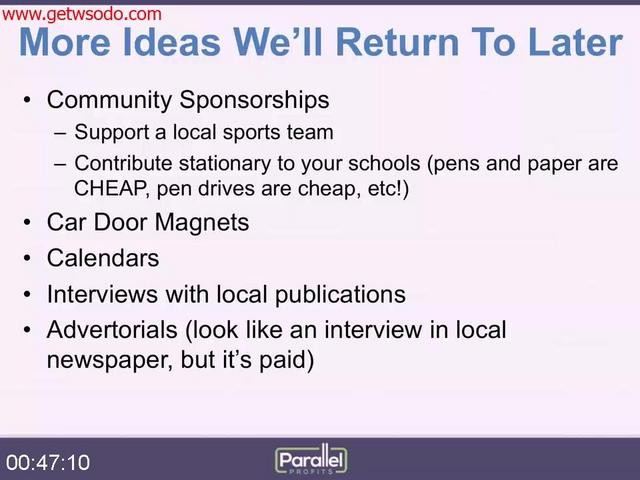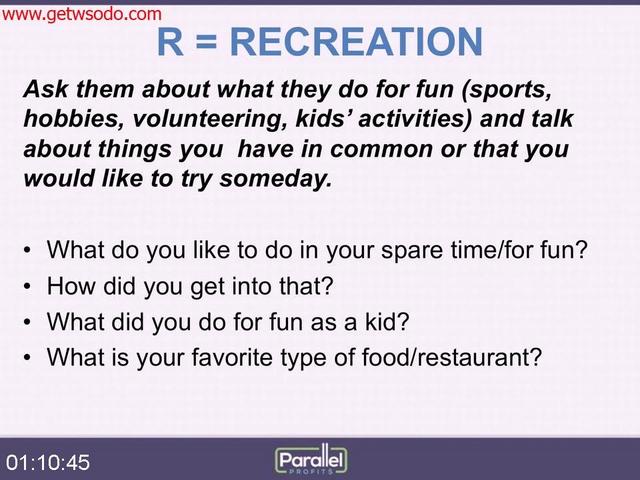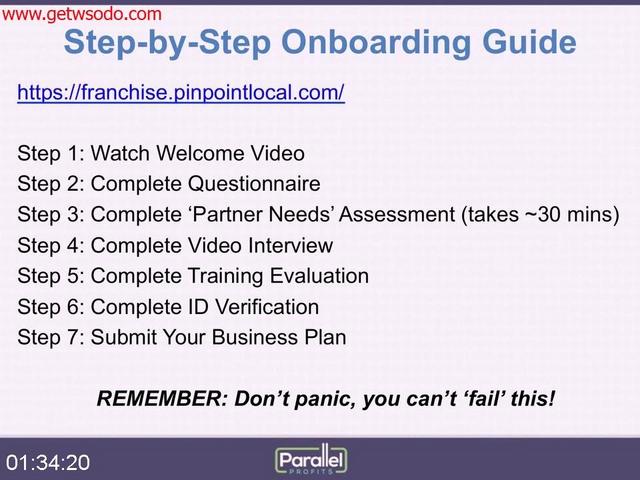 Download from NitroFlare

http://nitroflare.com/view/0716A1964FDE377/G_PAidan_Booth_and_Steven_Clayton_-_Parallel_Profits.z01
http://nitroflare.com/view/3775331B1797C31/G_PAidan_Booth_and_Steven_Clayton_-_Parallel_Profits.z02
http://nitroflare.com/view/A90CF509BC1E3FB/G_PAidan_Booth_and_Steven_Clayton_-_Parallel_Profits.z03
http://nitroflare.com/view/F7557447350BAF4/G_PAidan_Booth_and_Steven_Clayton_-_Parallel_Profits.z04
http://nitroflare.com/view/3BA3FEEC6D320EE/G_PAidan_Booth_and_Steven_Clayton_-_Parallel_Profits.z05
http://nitroflare.com/view/0D9196823418267/G_PAidan_Booth_and_Steven_Clayton_-_Parallel_Profits.z06
http://nitroflare.com/view/63B8895090E1DB6/G_PAidan_Booth_and_Steven_Clayton_-_Parallel_Profits.z07
http://nitroflare.com/view/A0BE329F8196AE2/G_PAidan_Booth_and_Steven_Clayton_-_Parallel_Profits.z08
http://nitroflare.com/view/9A2F99914122E97/G_PAidan_Booth_and_Steven_Clayton_-_Parallel_Profits.z09
http://nitroflare.com/view/061FC006F6F44D5/G_PAidan_Booth_and_Steven_Clayton_-_Parallel_Profits.z10
http://nitroflare.com/view/517D5EA87C923BB/G_PAidan_Booth_and_Steven_Clayton_-_Parallel_Profits.z11
http://nitroflare.com/view/00F5B377796DE8C/G_PAidan_Booth_and_Steven_Clayton_-_Parallel_Profits.z12
http://nitroflare.com/view/81A9A83B25789A4/G_PAidan_Booth_and_Steven_Clayton_-_Parallel_Profits.z13
http://nitroflare.com/view/83EF60A6D55FC81/G_PAidan_Booth_and_Steven_Clayton_-_Parallel_Profits.zip

Download from UploadGig

https://uploadgig.com/file/download/5854233d58c2c8e9/G_PAidan_Booth_and_Steven_Clayton_-_Parallel_Profits.z01
https://uploadgig.com/file/download/43bcb2ef31Ee2fF2/G_PAidan_Booth_and_Steven_Clayton_-_Parallel_Profits.z02
https://uploadgig.com/file/download/4bb6b6Be8F7c723d/G_PAidan_Booth_and_Steven_Clayton_-_Parallel_Profits.z03
https://uploadgig.com/file/download/FD29948d1aaa72ac/G_PAidan_Booth_and_Steven_Clayton_-_Parallel_Profits.z04
https://uploadgig.com/file/download/5C8C858a2fD475fa/G_PAidan_Booth_and_Steven_Clayton_-_Parallel_Profits.z05
https://uploadgig.com/file/download/96705288953c6E92/G_PAidan_Booth_and_Steven_Clayton_-_Parallel_Profits.z06
https://uploadgig.com/file/download/7185c206a5e90f61/G_PAidan_Booth_and_Steven_Clayton_-_Parallel_Profits.z07
https://uploadgig.com/file/download/36b6cc645791e8ef/G_PAidan_Booth_and_Steven_Clayton_-_Parallel_Profits.z08
https://uploadgig.com/file/download/09987fbD7341b4D7/G_PAidan_Booth_and_Steven_Clayton_-_Parallel_Profits.z09
https://uploadgig.com/file/download/45d5770A593C08a1/G_PAidan_Booth_and_Steven_Clayton_-_Parallel_Profits.z10
https://uploadgig.com/file/download/5f5C1f0ab71eaA6e/G_PAidan_Booth_and_Steven_Clayton_-_Parallel_Profits.z11
https://uploadgig.com/file/download/e90eD89437ad71f3/G_PAidan_Booth_and_Steven_Clayton_-_Parallel_Profits.z12
https://uploadgig.com/file/download/AD429be200155eD2/G_PAidan_Booth_and_Steven_Clayton_-_Parallel_Profits.z13
https://uploadgig.com/file/download/33d105392f3Ca28e/G_PAidan_Booth_and_Steven_Clayton_-_Parallel_Profits.zip

Extract the archives with Winrar 5 or WinZip(zip files) & password
Password: Golden_Plaza
Sponsored High Speed Downloads
---
Search More...
Aidan Booth And Steven Clayton - Parallel Profits
---
Links
Download this book
No active download links here?
Please check the description for download links if any or do a search to find alternative books.
---
Related Books
Comments
---
No comments for "Aidan Booth And Steven Clayton - Parallel Profits".
---
Add Your Comments
Download links and password may be in the description section, read description carefully!
Do a search to find mirrors if no download links or dead links.